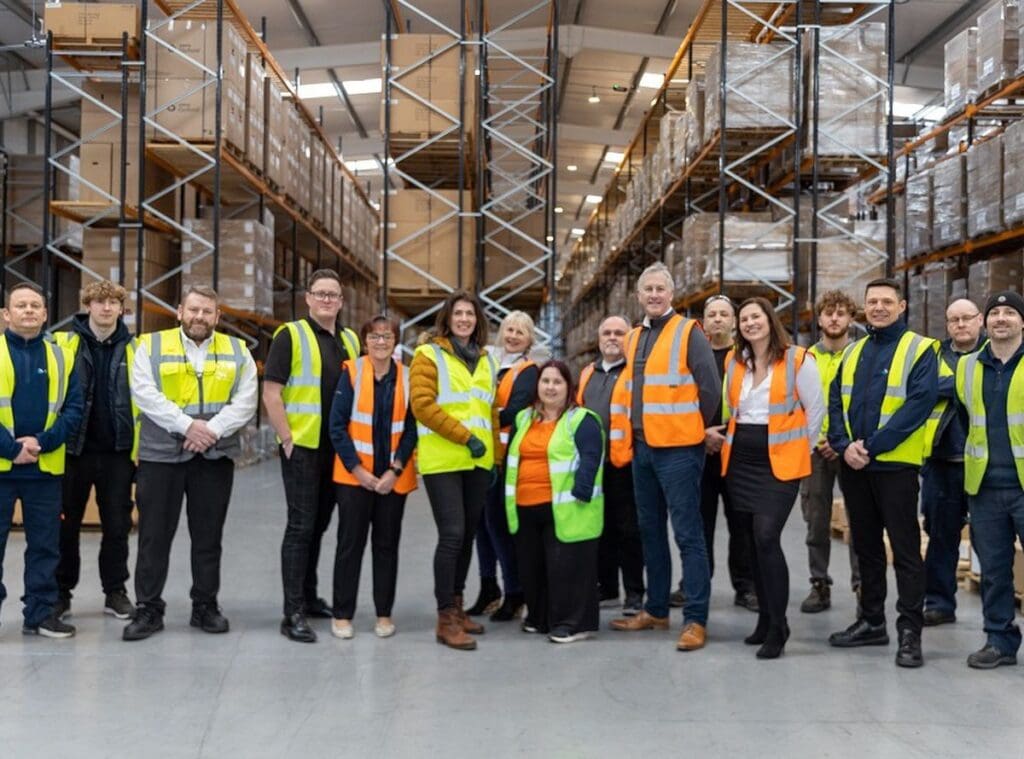 Manufacturing sub-contractor CEL Group is rapidly reaping the rewards of moving to its impressive new purpose-built Telford base.
The business, which celebrates its 20th anniversary this year, has been fully operational at the council-owned Hortonwood West business park since September 2022.
The plot has been developed through the Telford Land Deal programme, a partnership formed in 2015 between Telford & Wrekin Council, Homes England and the Marches Local Enterprise Partnership.
Via the Marches Building Investment Building Grant Scheme, CEL Group received over £63,000 of funding to make the final alterations to the building.
This is partially financed by the England European Regional Development Fund, part of the European Structural and Investment Funds Growth Programme 2014-2020.
Since making the move from its previous Telford unit in Halesfield, CEL Group has virtually doubled its floor space – from 21,000 sq.ft to 40,000 sq.ft.
It means the sub-contract manufacturing business is now expanding its services, passing on the benefit of this additional capacity to its UK customers as well as offering additional engineering service support, UK assembly and stock management and storage space for products which are manufactured at its facilities and partners in China.
The move to Hortonwood West is also enabling CEL Group to accelerate its expansion of flexible supply chain services.
These are already helping many leading Original Equipment Manufacturers (OEMs) compete more successfully in the UK market, as well as overseas.
CEL Group offers low-cost quality manufacturing and full logistics management to many different industry sectors with over 60% of its products supporting the healthcare sector, including the NHS.
Products range from components to complex fabrications and from assemblies to full box builds.
The Telford Land Deal programme is continuing to go from strength-to-strength – delivering new skills, jobs and homes across the region.
It brings forward former new town sites set aside for development, de-risks them and provides shovel ready land which can be developed for employment and residential use.
Simon Cartwright, CEL Group Managing Director said: "Moving to the new site has made a huge difference to the CEL group – bringing several of our operations under one roof.
"Here, we can improve our services and grow faster which makes it easier for our customers – UK manufacturers – to compete more effectively and grow too. We're already expanding our UK assembly offer, as well as other initiatives.
"The Telford Land Deal has been instrumental in redeveloping these sites making it possible for businesses like ourselves to move into smart purpose-built units and expand our operations and services.
"This move really has had a positive impact on all aspects of the CEL Group. We are a relatively small but ambitious company.
"We've come a long way over the last 20 years and we're excited about building an even stronger future here as we continue to grow."
CEL Group, which also has modern office space at its new premises, employs 16 staff, with the company's first ever apprentice now leading an assembly line.
The firm is also looking to take on further apprentices, both on the shop floor and potentially supporting CEL Group's sales and marketing function.
Julie Tickell-Cartwright, CEL Group Marketing Director, added: "We have always been proud to be based in Telford, but this new location has taken us to the next level.
"The move helps us future-proof the business; attracting new customers, as well as ensuring our existing customers are even happier.
"Since we opened our doors, we've been delighted at the number of customers and prospects who've been keen visit the new site and discuss the opportunities it offers them.
"The whole team are thrilled to be at Hortonwood West and working at a new facility which makes CEL Group a much more attractive proposition."
To date, the Telford Land Deal programme has attracted around £325m of inward and foreign investment, creating in the region of 2,000 jobs and nearly 1,300 new homes.
Councillor Lee Carter (Lab), Telford & Wrekin Council's cabinet member for neighbourhood services, regeneration and the high street, said: "We are extremely proud of the Telford Land Deal and the positive impact it continues to have across the borough.
"The programme is delivering new infrastructure, creating new jobs and homes and helping businesses to grow and attract investment.
"We are delighted to hear that CEL Group is one of the businesses to have benefited from relocating on a site which has been redeveloped through the Telford Land Deal.
"It shows that Telford is a prime location for investors to land, from other areas of the UK and around the world."
Photo: Cllr Gemma Offland, ward councillor for Hadley and Leegomery, Catherine Hawksworth, Telford & Wrekin Council's senior surveyor for prosperity and investment, Simon Cartwright, CEL Group managing director and Julie Tickell-Cartwright, CEL Group marketing director (all centre) with the CEL Group team.